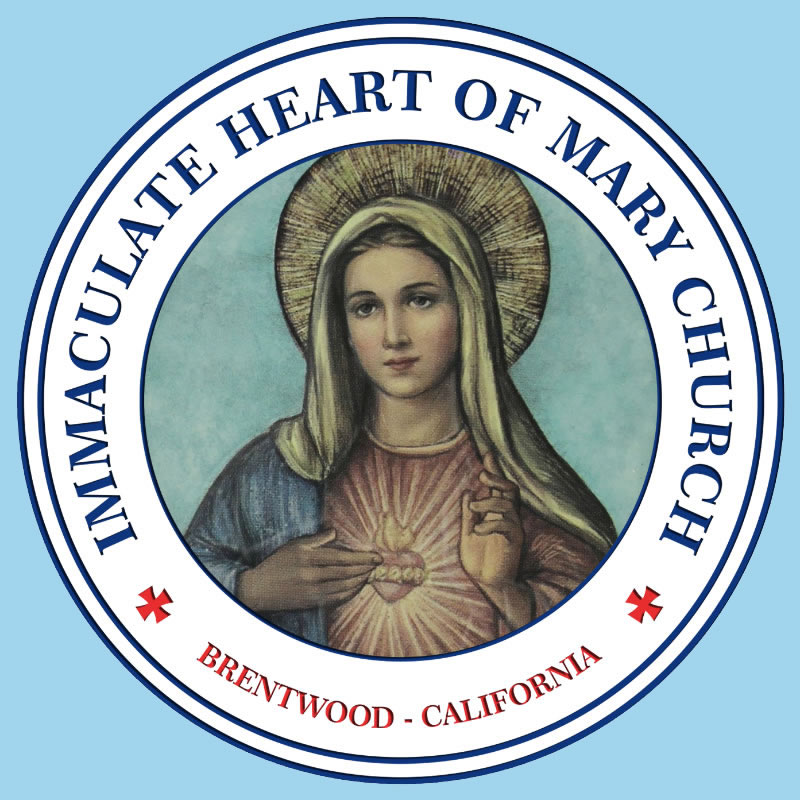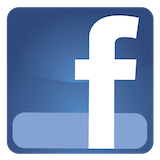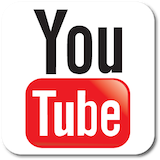 What's New:
The following is a list of recent additions or changes to our website:
---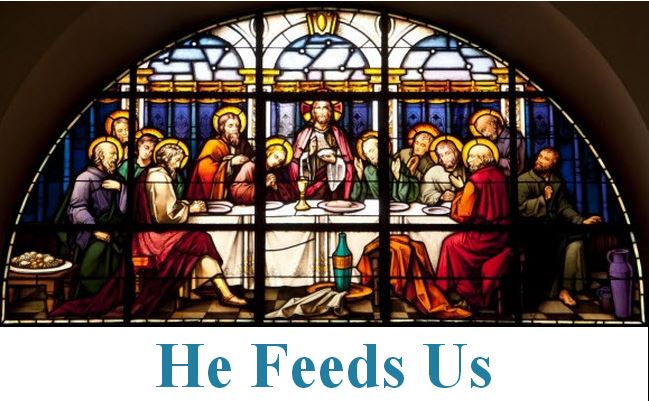 To join Deacon Ron Horan's E-Newsletter's mailing list, Click Here
---
Save the Date:
Young Adult Retreat:Saturday, August 29, 2015 Date: Saturday, August 29th, 2015 from 9:30am to 3:30pm Location: San Damiano Retreat in Danville, CA
Leadership: Paula Jenkins and Earl Rivard
Register: at sandamiano.org

*******************************

San Damiano Retreat
Presents "Late Nite Catechism" - St. Isidore Parish, Sunday, August 30, 2015 -
Hall 440 Gonda Way, Danville - $35 for show or $45. for show, premiere seating and wine and cheese reception. For information and tickets: Kateri at 925-
837-9141 x 315 or email:katerik@sandamiano.org.

*******************************

Women's Faith Sharing:
New session begins Sept 3, Thursdays, 10-11:30 am in the Library. 8 week video series: MARY, A Biblical Walk with the Blessed Mother. (Be drawn closer to Christ as Mary leads you to a more profound and personal rela􀆟onship with her son.) Bible study workbook from: Ascension Press or Amazon (approx. $25.) More info: Ethel at 513-7359 or Carol at 516-3701.

*******************************

An Era of Elegance!
Immaculate Heart of Mary staff and
ministries cordially invite you to "An Era
of Elegance" fashion show and luncheon. We hope to bring together the ladies of our parish community for a day of celebration with fabulous food, fashion, and fun. The event will take place on September 12, 2015 in our parish community life center and doors will open
promptly at 11:30am. Tickets are on sale for $40 per person. All funds will be credited to the IHM Church loan. Tickets are available in the Parish office.
If you have any questions in regards to the event, please feel free to call the parish office at 634-4154.

*******************************
Emmaus 
English Speaking Men's Retreat - September 18-20, 2015. Applications will be available in the plaza beginning on 15th after all Masses.
Emmaus English Speaking Women's Retreat - October 23-25, 2015 - For more information please contact Carol Ilch-Rojo at 925-437-8710.

*******************************

Saturday, September 26, 2015 -
Magnificat Prayer Breakfast 9:30am-12:30pm. $28 before September 12th/ $35. after that date. For info:
www.magnificatsoti.org

******************************* 

October 9, 2015 - Blue Mass - 10:00am Honoring First Responders and their Families at Cathedral of Christ the Light, 2121 Harrison Street. Oakland, CA.
For details, please visit us at oakdiocese.org/BlueMass2015.


*******************************

Fil-Am Casino Bus Trips
September 5, September 19, October 24, 2015 For more information on these trips contact: Cora Marcelino at 925-634-7521, Remy Bermudez at 925-354-8835 Lee Blackshear at 925-513-7752

******************************* 

Crafty Quilters Christmas
October 23-25, 2015 -
Bouquet. Raffle of Handmade quilt. Many
handmade craft items for your Christmas shopping. Bake sale goods available. All proceeds go to IHM. Any additional information contact
Ann 925- 864-3242


To view and listen to a reflection on the Scripture readings from today's Mass,
Click Here
Daily Mass Reading & Reflection in your smartphone?
Click Here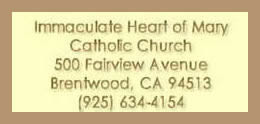 | | | |
| --- | --- | --- |
| | | |
| | Click here or the picture below to watch Fr. Jerry on EWTN's Journey Home. | |
| | | |

Bishop Barber has released a statement on the recent Supreme Court decision on marriage. Click here to read it.
Fr. Jerry



We recently have had emergency calls when the emergency vehicles have been unable to easily reach the person needing assistance because of illegal parking. This must be stopped. In the next few weeks, Brentwood Police Department will be invited on site to issue citations to those parked in the DRIVEWAYS, WALKWAYS, RED ZONES and BLUE HANDICAPPED SPACES (without posted permit). Please cooperate.
Fr. Jerry

ZONA ROJA
Recientemente hemos tenido llamadas de emergencia cuando vehiculos de emergencia no pudieron ayudar a la persona que requeria atencion porque habian vehiculos que estaban estacionados ilegalmente. Esto tiene que parar inmediatamente. En las proximas semanas, invitaremos al Departamento de Policia de Brentwood a nuestra parroquia para que de tiquetes de multa a los vehiculos que estan estacionados en el cruze para peatones, caminos de entrada, ZONAS ROJAS y ESPACIOS AZULES PARA INCAPACITADOS (QUE NO TIENEN PERMISO DE ESTACIONAR EN ESOS PUESTOS). Por favor necesitamos su cooperación..
Fr. Jerry
THE SECOND ANNUAL PARISH FESTIVAL 
is scheduled. We will enjoy another great day of fun and festivities.
Mark your calendars and come join in on the fun
Saturday, October 17, 2015

Parish Festival Talent Showcase
Please contact: Lia Katreeb for sign-ups at
orellakat@comcast.net

EL SEGUNDO FESTIVAL ANUAL DE LA PARROQUIA
ya esta programado para el Sabado, 17 de Octubre del 2015.
Vengan todos a pasar un dia lleno de diversiones y festividades
Discovering Christ will start again on September 17

Discovering Christ will start again on September 17.Have you ever wondered about the meaning of life? What would your life be like if you had a close relationship with Jesus Christ? Discovering Christ is a small-group discussion course that will answer today's questions about how the life and teachings of Jesus Christ provide guidance and direction to those looking to explore. The nine week course begins at 7 pm on Thursday, September 17, in the Library.
Those Church members with friends or family who are curious in becoming
Catholic -or- Finishing their sacraments -or- Returning to their Catholic Faith are
encouraged to bring them to this series of dynamic sessions. Contact Linda
Kortuem: 925-634-4154 X 117 or 110. John Kortuem: 925-634-4154 X 161.
Email: linda.kortuem@yahoo.com
Announcements

Thank you to all those who made a pledge! The Campaign Committee would like to thank all the families who have contributed to date and have made the campaign a great success!







---

SCHEDULE OF SECOND COLLECTIONS

08/30/2015 - St. Vincent de Paul
09-06-2015—Church Loan
09/13/2015 - Holy Father

FECHAS DE SEGUNDA COLECTAS 
08/30/2015 - San Vincente de Paul
09-06-2015 –Deuda de la Iglesia
09/13/2015 - Santo Padre




FRIENDS OF THE POOR WALK/RUN
When-September 5, 2015
Registration-8am (free)
Walk-9am-1pm Where-7540 Balfour Road
Brentwood (De Luna Ranch)
Why-Because its a day filled with food, fun, family
& friends while helping the needy. 100% of proceeds directly benefit Brentwood and the surrounding communities. For more information or donate on line simple visit www.fopwalk.org.
Thank you

---
---
---



Consider Helping
in a New Ministry
Consider becoming an adult volunteer
catechist to those with Special Needs in a small
group setting. SPRED (Special Religious
Education Department) provides ongoing faith
formation for children, teens or adults with
developmental disabilities. For more
information call Linda Kortuem at
925-634-4154 x 117 or email
linda.kortuem@yahoo.com.
Website: www.spredoakdiocese.org




TUTORING MINISTRY
Registered IHM parishioners who have
children entering first, second or third
grades in the 2015-2016 school year and
are in need of tutoring in the reading and/or
math areas may register for tutoring after
all English and Spanish Masses at no cost to parents. We are blessed to have retired teachers and other parishioners who have worked with children willing to donate their time and talent to help children improve their reading and math skills. Parents may register after masses on August 8 and August 9, 2015 or August 15 and August 16, 2015. Registration closes August 23, 2015. Tutoring will take place in the IHM classrooms on Wednesdays. The first semester of tutoring will begin on Wednesday, October 14, 2015 to January 27, 2016. For further information please contact:
Mary Lou Klovee at 925-516-7484.


---
LIFE TEEN AND YOUNGER YOUTH GROUP





- Erinn Bagnaschi, 925)634-4153 Ext. 116...






---

Have you ever thought about becoming a Sister?

Single Catholic women ages 18 - 40 are invited to a
Religious Vocation Discernment Retreat with the
Daughters of Charity of St. Vincent de Paul ..




---


HORA SANTA
Están todos invitados a la Hora Santa todos los Jueves de las 5:15pm a 6:pm en la Iglesia.
*************
GRUPO JUVENIL
Los invitan a formar parte del Youth Group de IHM que se reune los Viernes a las 7:00pm en la Libreria. Para más información favor de llamar a la Sr. Carina Vargas al 925-513-8154 o a Roxanna Alvarez al 925-325-5162.
*************
Movimiento Familiar Cristiano Católico
Por una Familia más Feliz Estimados hermanos en Cristo y María...


Rito de Iniciación para adultos Cristianos
Los Domingos a las 5:pm en el Salón John habrán
clases para el Rito de Iniciación para adultos Cristianos.
Para aquellos que están interesados en unirse a la Fé o
catolicos quienes no han completado sus sacramentos,
por favor vengan a estas clases. Para Informacion
póngase en contacto con Virginia Chavez, télefono
925-679-5031

THE GABRIEL PROJECT



CATHOLIC DIVORCED, WIDOWED & SEPARATED OF CONTRA COSTA SUPPORT GROUP MEETINGS

The Support Group meets in Walnut Creek at St. Mary Church on the third Thursday of the month from 7:00 to 9:00pm....




---

SVDP CANNED FOOD DRIVE

For the weekend of September 6, 2015,
please bring canned vegetables . Thank you!
Para el fin de semana del 6 de Septiembre
del 2015, por favor traigan vegetales
enlatados. Gracias!



---

Do you have something to publish in the IHM Bulletin? Please submit your request to: bulletin@IHMBrentwood.com
*************
Do you need to schedule use of facilities? Please submit request to: ihmfacilityschedule@ihmbrentwood.com





---

IHM LIBRARY


The library is now open! Come in and browse
our many books and audio/visual recordings to expand
your knowledge of our Catholic Faith! Hours: Fridays 2:30
- 5:30pm. Questions? Call Mickey DeFalco at:
925-634-3492.
---

WIDOW/WIDOWERS SUPPORT GROUP

meets Thursday from 6-7:15 in Halll B.
Are you trying to focus on your new life after the death of a spouse? Are you lonely? Come and find ways to deal with your new circumstances. Meet
other people who share your concerns. Traveling the grief trail can be daunting. Sessions resume Sept.3. 2015. For more info call Sany Heinisch
at 925 513-3412 or Mary Ann Smith at 925 240 1706


CATHOLIC DIVORCE SURVIVAL GUIDE COURSE
How to survive the loss of a Marriage. Course begins Sept. 3, 2015 in Hall B and continues until Dec. 17, 2015. 13 weeks for $25.00 For more infomation call Sandy Heinisch at 925 513-3412 or Mary Putnam at 925 516-1079 or Mary Beth MC Cann at 925 418-4446

---
Adult Catholics who have not received their Confirmation
We will begin our Adult Confirmation classes Thursday, September 10, 2015, in classroom Matthew from 7pm- 8:30pm. This course runs through February 4, 2016. The Bishop will confirm those who attend and complete this course on January 30, 2016. Registration will be September
10, 2015. The fee is $25. per per to pay for your books. If you have any questions, please call Linda Kortuem at 634-4154 x117.


---

Los Domingos a las 5:pm en el Salón John habrán clases para el Rito de Iniciación para adultos Cristianos. Para aquellos que están interesados en unirse a la Fé o catolicos quienes no han completado sus sacramentos, por favor vengan a estas clases. Para Informacion póngase
en contacto con Virginia Chavez, télefono 925-679-5031


CORO DE NIÑOS EN ESPAÑOL
Se invita a niñ@s de 8 años en adelante Se iniciaran los ensayos, El día: Viernes 4 de Septiembre Hora: 4:00 p.m. Lugar: La Iglesia
¡LOS ESPERAMOS!
Para mayor información comunícate al teléfono: (925)-513-8154. con Hna. Guadalupe


El grupo de San José se pone a su disposición visitandolos y llevando la imagen de San José que quedará con esa familia por una semana. Rezaremos el Rosario con la familia. Favor de ponerse en contacto con Reina Garcia at 510-303-7840.


Ven y Conoce tu Fe Católica
Te invitamos a participar de nuestras clases de Teología que se impartirán en esta parroquia de IHM. Es una oportunidad para profundizar en los contenidos de tu fe y dar respuesta a muchas de tus preguntas. Inicio de clases: 19 septiembre de 2015. Horario: De 8:00am a 12:00pm
Contáctanos: 925-634-4154 ext 101 o ext. 108 o edecparai@gmail.com

INVITATION TO ANNUAL IHM MEN'S EMMAUS RETREAT


September 18th-19th-20th 2015
For Information & Details, Contact: Ben Stocking at 925-978-9571 or David Katreeb at 415-786-4194


---

All Saints & Angels Carnival
Need Volunteers for the 5th Annual Event on Saturday, October 31st. Help with Setup, Games, Food, and Breakdown. Please Call Jill Wright 925-420-6865 or Tammy Brown 925-206-9443


---

LIVING STEWARDSHIP NOW
What is your offering of stewardship, in gratitude for God's goodness? Do you need to increase your giving, pull back from something, or change your commitments in some way?

LA CORRESPONSABILIDAD VIVIDA AHORA
¿Qué ofreces como corresponsabilidad cristiana en gratitud por la bondad de Dios? ¿Necesitas aumentar tu contribución, alejarte de algo o
tal vez cambiar tus compromisos de alguna manera?


---

From Fr. Jim:


Thank you to IHM for all your support of the 8 young people who went to Medjugorje's YouthFest earlier this month. They were able to attend the evening YouthFest Mass with over 100,000 attendees, including a group from Syria. They climbed Apparition Hill and Krizevac (Cross) Mountain; heard testimonies and talks; and met Fr. Jozo who prayed over many of them. All of the pilgrims have a deeper appreciation of the beauty of our Catholic faith.
Thank you again. Fr. Jim and the pilgrims.

---

Younger Youth Group (ages 9-13) starts Monday, 9/14


from 6-7:30pm in the Hall. We gather together engaging in fun-filled games and activities while developing lasting friendships and growing together in the Faith!
Please contact Clarisa Specht if you have any questions at 470-7928.
---




The 2015-16 Choir Season begins again
and you're ALL invited to come and share your musical talents to praise
and give thanks to our Lord!
Coro de Español (Spanish Choir): Wednesday 8:00-9:15 pm
Youth Choir (grades 3-12): Thursday 4:00-5:15 pm 9:00 am and 12:30 pm
Choirs: Thursday 6:30-8:00 pm
Orchestra (strings, brass, woodwinds, percussion): Saturday 3:00-4:00 pm
Latin Choir (Lisa Karleskind, Director): Sunday 3:45-4:45 pm
All rehearsals are held at the IHM Music Room.
Please call Ed Magistrado, Music Director, at (925) 634-4154, ext. 112 for more info.

********************

PRAY FOR THE UNBORN AND THEIR MOTHERS
Every Thursday 9:30am - 11:00am at Planned Parenthood, Antioch
Nancy - espofamily5@comcast.net
Lou - lou.di@sbcglobal.net

********************



IHM Morning Grace for Mothers
Are you looking for a community of mothers practicing the Catholic faith? This group provides a comfortable setting to bond over motherhood and our faith. All meetings will be held in Brentwood and children are welcome to come. Our first meeting will be Wednesday,
September 9th 9:30a-11am. This meeting will be a meet and greet and you will have the opportunity to share what you would like to take away from our group. The following meetings:
October 14th, November 11th and December 9th. Please contact Shana Ortega (I am a mother of two with one on the way) if you are interested in attending or have any questions please call:
707-694-8663 or e-mail at shanaeortega@gmail.com





CONTRA COSTA FOOD BANK
CONTRA COSTA FOOD BANK The Contra Costa Food Bank Mobile Produce Distribution Program distributes FREE produce on the 2nd. and 4th. Tuesdays of each month in the IHM parking lot from 12:00 noon to 1:00pm to families in need. This program is only for low income families. For more information, please call Ralph at (925)240-1177.

BANCO DE COMIDA DEL CONDADO DE CONTRA COSTA
El Programa de Distribución del Banco de Comida Móvil del Condado de Contra Costa de productos agricolas distribuye GRATIS estos productos el SEGUNDO Y CUARTO MARTES de cada mes en el estacionamiento del ICM de 12:00 a 1:00pm a familias que necesitan. Este programa es solamente para familias de pocos recursos. Para más información, por favor llame a Ralph at (925) 240-1177..


MARIAN MOVEMENT OF PRIEST
Join us on EVERY FIRST SATURDAY OF THE MONTH for the cenacle of the Marian Movement of priests. The group prays the Rosary and offers up the Intentions primarily for The Pope, Bishops and priests worldwide. Time and Place: 10:00am in Hall C