July 27, 2014
—Crafty Quilters is sponsoring a plant sale. Proceeds will go to send the IHM Youth Choir to Rome. Drought resistant plants and flower vases will be available for purchase.
August 3, 2014
— There will be a Lumpia
and Hot Dog sale in the Plaza from 8:00am to
2:00pm. The Divine Mercy Ministry is in charge of this event. The proceeds will allow the group to purchase evangelical materials.
August 16, 2014
—Diocese of Oakland
Divine Mercy Ministry and Apostolate -Father of
Mercies, Annual Summer gathering with Bishop
of Oakland to be held at the Church of Good
Shepherd in Pittsburg, Ca.
September 14, 2014
—Guadalupana Annual
Fiesta Mexicana
—De Luna Ranch.
3:00pm to 9:00pm.
September 21, 2014
— There will be a Lumpia
and Hot Dog sale in the Plaza from 8:00am to 2:00pm. The Divine Mercy Ministry is in charge of this event. The proceeds will allow the group to purchase evangelical materials.
Sept. 28-Oct. 6
—Pilgrimage for the Feast Day of St. Faustina.
Spiritual Director Fr. Carl Arcosa-(925) 432-6404
Oct. 19, 2014
Mark your calendars for the IHM Parish Festival.
November 2015
"In the footsteps of St. Paul" a pilgrimage to Greece and
Turkey. Brochures available in the office or speak
to Fr. Jerry.

To view and listen to a reflection on the Scripture readings from today's Mass,
Click Here
Daily Mass Reading & Reflection in your smartphone?
Click Here
---


Powered by IP2Location.com


The Diocese of Oakland is seeking qualified applicants for the following position:
Controller - Chancery Office

For more information, please contact:
Department of Human Resources
Diocese of Oakland
2121 Harrison St.
Oakland, CA 94612
or click here or the picture above to go to their website.

**************
Dynamic Catholic has openings for:
Team Leader: First Communion & Reconciliation
Team Leader: Marriage Preparation
Event Coordinator
Mission Partner
Communications Designer
For more information contact DynamicCatholic.com

Welcome Fr. Joseph Le!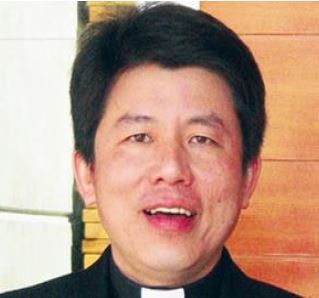 Fr. Joseph comes to us after his recent ordination to the priesthood at Christ the Light Cathedral in Oakland. Joseph began his quest for the priesthood in his native Vietnam, but due to the Communist government there, he was forced to go to the Philippines to enter seminary. He studied there for eight years, and then came to the Diocese of Oakland three years ago; in the time he has been here he finished his evaluations and studies at St. Patrick's Seminary in Menlo Park. Fr. Joseph speaks Vietnamese and English, but no Spanish. I am sure that being in our loving and supportive community Fr. Joseph will gain the opportunity to learn some Spanish as well!!
We welcome him to our community and look forward to his ministry among us.
Please welcome Fr. Joseph to Immaculate Heart of Mary Church!


CCD (Spanish and English) and Confirmation
Registration Schedule:

Saturday, August 2nd. 10:00am to 3:00pm - Classrooms
Sunday, August 3rd. 10:00am to 3:00pm - Classrooms
Saturday, August 16th. 10:00am to 3:00pm - Classrooms
Sunday, August 17th. 10:00am to 3:00pm - Classrooms

Registration for 7—12 year olds who have not been baptized will be at the times and dates above.
Please note that all families should be registered with the Parish prior to registering for the above classes.

Horarios para inscribirse en clases de Catecismo y Confirmación
en Inglés y Español

Sábado, 2 de Agosto 10:00am to 3:00pm - Salones
Domingo, 3 de Agosto 10:00am to 3:00pm - Salones
Sábado, 16 de Agosto 10:00am to 3:00pm - Salones
Domingo, 17 de Agosto 10:00am to 3:00pm - Salones

Inscripciones para jovenes de 7 a 12 años de edad quienes no han sido bautizados tienen el mismo horario y fechas indicadas en este mensaje.

Por favor noten que las familias tienen que estar registradas con la Parroquia antes de inscribirse en las clases mencionadas
en este mensaje.





Our Bishop's Appeal goal for this year is $56,000.00. As of May 20th, we have raised $50,005.00, 90% of our goal.
Thank you to all who have participated. If you have not done so, please fill out your envelope today and place it in the collection basket.

La meta de la apelación de nuestro Obispo este año es de $56,000.00. Desde el 20 de Mayo, hemos recaudado $50,005.00,
que es el 90% de nuestra meta.
Gracias a todos los que han participado. Si no lo han hecho todavia, por favor complete su sobre hoy y pongalo en la cesta de colecta.


Parish Mission / Misión Parroquial:

With Mary, we seek to know Christ better and to make him better known through our words and actions.
Con María, nosotros buscamos conocer mejor a Cristo y hacerlo conocer mejor a él por medio de nuestras acciones y palabras.



Once again we are in the warm weather, and a reminder to everyone to dress modestly when coming to Mass.
Please, men, no tank tops.
Women and teenage girls, please no short shorts, or low cut skimpy tops.
Remember who you are coming to encounter at Mass, it is the Lord.

De nuevo el clima caliente ha llegado y les quiero recordar a cada uno de
ustedes que se vistan modestamente cuando vengan a la Misa.
Por favor, señores, no usen camisetas sin mangas.
Señoras y jovencitas, no pantalones cortos, o camisetas muy descotadas.
Acuerdense a quién vienen a ver y a recibir en la Misa, es el Señor.
Collection Report
June, 2014

Plate
Budgeted $ 107,500.00
Plate Collections $ 93,106.00
Income Shortfall of budget for June, 2014 $ - 14,394.00

Loans
Balance Loan #1 (Church Loan) - $ 819,517.00
Balance Loan #2 (Community Life Center) - $ 309,779.00
Total loan balance outstanding - $ 1,129,296.00
Remember $5 instead of $1 makes a difference!

Reporte de colectas
Junio 2014

Plato
Presupuesto - $ 107,500.00
Colectas de Plato - $ 93.106.00
Déficit del presupuesto en Junio, 2014 - $ 14,394.00

Préstamos
Saldo del Préstamo #1 (Préstamo de la Iglesia) - $ 819,517.00
Saldo del Préstamo #2 (Centro de Vida Comunitaria) - $ 309,779.00
Saldo del Préstamo Pendiente - $ 1,129,296.00
Recuerde que $5 en vez de $1 hacen la diferencia!



| | | |
| --- | --- | --- |
| | | |
| | | |
| | | |

THANK YOU!
Several ministries and organizations have hosted recent fundraising events which have contributed greatly to the reduction of the
Community Life Center loan balance. Thank you to all of the members and volunteers of these organizations and to those Parishioners who participated in these events:
Ladies' Guild $5,000.00; Wine Classic $5,460.00 ; Guadalupana Society $ 14,000.00; Emmaus Ministry $6,200.00; Fil-Am Society $9,500.00 and Knights of Columbus and Italian Catholic Federation as sponsors of the 2014 IHM Golf Tournament $22,000.00.
Varios Ministerios y organizaciones fueron patrocinadores de eventos para recaudar fondos que han contribuido muchisimo a la reducción de la deuda del préstamo del Centro de Vida Comunitaria. Gracias a todos los miembros y voluntarios de estas organizaciones y también aquellos parroquianos que participaron en estos eventos:
Ladies' Guild $5,000.00; Evento Clasico de Vino $ 5,460.00; Sociedad Guadalupana $14,000.00; Ministerio de Emmaus $6,200.00; Sociedad Fil-Am $9,500.00 y Caballeros de Colon y la Federación Catolica Italiana como patrocinadores del Torneo de Golf de ICM 2014.

**********************

Information Meeting on Youth Festival, 2015 in Medjugorje
Father Jim will be leading a pilgrimage to Medjugorje for Youth Festival, in the summer of 2015. The dates are July 30 – August 7. You do not need to be a youth to go! An information meeting will be held on Sunday,
July 27 from 5:00pm to 7:00pm in Hall A. Light refreshments will be served.

**********************

Saturday Night with Jesus Healing Mass
Our next Charismatic Healing Mass will be held at IHM on Saturday, July 26th at 8pm in the Church. This Diocesan Charismatic Mass is an evening of introduction to the Charismatic renewal. All are welcome as we pray for
healing and a deeper relationship with the Holy Spirit in our daily lifes. Please bring a friend and come join us for this special Diocesan sponsored Mass. For more information, call CCRO at 925-828-6644 or Julie at 925-513-8155.

**********************

CALLING ALL WOMEN!
Magnificat Ministry for Catholic Women Invites you to our September Prayer Breakfast
Saturday, September 6, 2014
9:30am—12:30pm Crowne Plaza
45 John Glenn Drive, Concord, Ca.
You won't want to miss our speaker Donna Ross! She will inspire us with her testimony as she tells how after 25 years of working for Disney's Magic Kingdom she chose to leave and go to to work for the Eternal Kingdom of God. Come and Let Donna encourage you and inspire you with her story. Reservations are $28/$35 after August 30th. Please go to www.magnificatsoti.org for info or call Maribel at
(925) 788-7762.

**********************

Now Enrolling
Enroll your children in a safe, loving and family-oriented school where Catholic education, good test scores, and children come first. St. Peter Martyr School in Pittsburg has immediate openings and is accepting students for Preschool, Pre-Kindergarten, Kindergarten and grades 1-8. Before and after school day care is available. Extra curricular programs, team sports, Christian values, and strong academic program promote lifelong success for our students. For an application or information call the school at (915) 439-1014 or apply on line at www.stpetermartyrschool.org. Give your child a lifelong gift, a Catholic education.


The Knights of Columbus
& Italian Catholic Federation
PANCAKE BREAKFAST
Come visit with your fellow parishioners and welcome our new parishioners at the pancake breakfast on Hospitality Sunday, the first
Sunday of each month, Co-sponsored with the Hospitality Ministry
for the given month. Breakfast hours are 8:00 am to noon. See you
at our donation only breakfasts.

Caballeros de Colón
y la Federación Católica Italiana
Desayuno de Panquecas
Vengan a visitar con sus amigos parroquianos y darle la bienvenida a
los nuevos parroquianos al desayuno de panquecas en el Domingo de
Hospitalidad, el primer Domingo de cada mes. Esta función esta
patrocinada con el Ministerio de Hospitalidad en cada mes. Horario
del desayuno es de 8:00 am a 12:00 pm. Nos veremos a estos
desayunos y agradecemos donaciones.

********
Since 2007, Council #7467 of the Knights of Columbus and Branch #432
Italian Catholic Federation of Immaculate heart of Mary Branch has sponsored scholarships for graduating high school seniors.
[Read More]



MARIAN MOVEMENT OF PRIEST
Come and Join us on EVERY FIRST SATURDAY OF THE MONTH for the cenacle of the Marian Movement of priests. The group prays the Rosary and offers up the intentions primarily for the Pope, Bishops and priest worldwide.
Time and Place: 10 am—Hall C Fr. Jim Sullivan is the advisor for our group sessions.


The following is a list of recent additions or changes to our website.
SCHEDULE OF SECOND COLLECTIONS
08/03/2014—Debt Reduction
08/10/2014—Missionary Appeal

FECHAS DE SEGUNDA COLECTAS
08/03/2014—Reducción de la Deuda
08/10/2014– Apelación Misionera


PARISH FESTIVAL
October 19, 2014
Mark your calendars for the IHM Parish Festival.
[Read More]

The Women's Emmaus Retreat Team
Formation Meeting will take place on Thursday, July 24th at 7pm in Luke Classroom.
For more information, please contact Patty Barbosa
at (925) 240-8489

CHILDREN'S LITURGY OF THE WORD
There will not be classes for the Children's Liturgy of the
Word for the month of July. All programs go from August to June.

CATHOLIC DIVORCED, WIDOWED & SEPARATED OF CONTRA COSTA SUPPORT GROUP MEETINGS
The Support Group meets in Walnut Creek at St. Mary Church on the third Thursday of the month from 7:00 to 9:00pm....
[Read More]
Worldwide Marriage Encounter
Upcoming Weekend is on September 5-7 or November 21-23 held in Livermore/Pleasanton....
[Read More]
TUTORING MINISTRY
We are in need of additional retired Teachers & Teacher Assistants who wish to donate their time & talent to help children with their academic needs. Actual tutoring will begin after the second week in October.
[Read More]
CARING HANDS
Volunteer Caregivers Program
Help A Senior - Make a Difference!
.[Read More]
Filipino Ministry
Halo-Halo Fundraiser
July 20, 2014, Sunday, 11:30am-3:00pm. Come and enjoy this all-time Filipino favorite Mixed-Fruit dessert...
[Read More]
THE CHARISMATIC PRAYER GROUP AT HOLY ROSARY IS EXPANDING!!
Come and join us every
Tuesday from 9:00am to 11:30am...
[Read More]
IHM YOUTH CHOIR FUNDRAISERS
Plant Sale
July 26-27 at the Plaza after all masses
Comedy and Magic Show
Saturday, August 16 @2:00pm
[Read More]
NEW AT SAN DAMIANO RETREAT:
Silent Contemplative with
Fr. Cyprian Consiglio, OSB, Cam. On August 1-3....
[Read More]
***TELL A FRIEND***
***COME ONE COME ALL***
"In the footsteps of St. Paul" a pilgrimage to Greece and
Turkey, November 2015....
[Read More]
FALL PARISH EMMAUS RETREATS
Men's English: September 19-21, 2014
Women's English: October 24-26, 2014...
[Read More]
Movimiento Familiar Cristiano Católico
Por una Familia más Feliz Estimados hermanos en Cristo y María....
[Read More]
HOST FAMILIES NEEDED THIS SUMMER
July 9—August 4, 2014 for Italian Exchange Students...
[Read More]
SPRED or (Special Religious Education) is sharing our faith with young people...
[Read More]
The Summer Feeding Program is funded by
the United States Department of Agriculture
(USDA)....
[Read More]
EDUCATED ANGELS
"Educated Angels", an
organization that is open to every student meets every Monday at IHM from 4pm to
5:30pm in Halls A,B and C....
[Read More]